Hello, Four!
There's no one like you. You are a unique, one-of-a-kind, gift from the Divine Artist to the world. You are an old soul with the innovative heart of a groundbreaking artist, likely spending your life feeling as though you were born both too late and way too soon. When at your best, time with you can be like sitting in an old church building, secure in its strong foundation and towering place in the world. Sitting in the silent holiness—timeworn pews holding vigil, the sun's strong, gentle rays reaching out to us through a myriad of bright panes in tall stained-glass windows—allows us to feel both securely known and inspired.
Enneagram Fours (who I also refer to as Individualists) come in an infinite variety of shades and hues. You are mysterious, otherworldly, multilayered, and deeply intriguing. I'll never be able to fully understand you and I'm okay with that; there is, after all, no true beauty without mystery. You are to us an iconic symbol whose life and work transcends language, space, and time—which is why the world keeps coming back to you for more.
Let's look at how the gospel both affirms and challenges the unique characteristics of your personality type.
The Gospel Affirms Individualists
God sympathizes with the worldview of an Individualist. This inauthentic and insensitive world lacks depth and is filled with predictable, superficial, trendy, and tacky people. We need intuitive and imaginative leaders who will show the hurting empathy, add beauty to every area of our lives, express the inexpressible, teach us about our humanity, and share with us the many wonders and mysteries of this life. Therefore, an Individualist will be happy to know that the Bible affirms the following beliefs:
God created us all unique. "For you formed my inward parts; you knitted me together in my mother's womb. I praise you, for I am fearfully and wonderfully made. Wonderful are your works; my soul knows it very well." (Ps. 139:13-14)

God created us as deeply sensitive beings. "Be kind to one another, tenderhearted, forgiving one another, as God in Christ forgave you." (Eph. 4:32)

God created us to live authentically. "My frame was not hidden from you, when I was being made in secret, intricately woven in the depths of the earth." (Ps. 139:15)


God created us to embrace joy and suffering. "[Jesus] was despised and rejected by men, a man of sorrows and acquainted with grief; and as one from whom men hide their faces he was despised, and we esteemed him not." (Isa. 53:3)

God created us to care about the aesthetics. "The Lord said to Moses, 'See, I have called by name Bezalel the son of Uri, son of Hur, of the tribe of Judah, and I have filled him with the Spirit of God, with ability and intelligence, with knowledge and all craftsmanship, to devise artistic designs, to work in gold, silver, and bronze, in cutting stones for setting, and in carving wood, to work in every craft." (Ex. 31:1-5)


God created the whole world: there is no difference between "sacred" and "secular." "For everything created by God is good, and nothing is to be rejected if it is received with thanksgiving, for it is made holy by the word of God and prayer." (1 Tim. 4:4–5)


God created us to fight for the underdog. "Learn to do good; seek justice, correct oppression; bring justice to the fatherless, plead the widow's cause." (Isa. 1:17)


God created us to long for eternity. "And not only the creation, but we ourselves, who have the firstfruits of the Spirit, groan inwardly as we wait eagerly for adoption as sons, the redemption of our bodies." (Rom. 8:23)
The Gospel Challenges Individualists
The gospel also provides specific challenges to Individualists. Now we'll explore the most common lies Individualists believe and see how the Bible provides much better promises and blessings.
Lie #1: I am deeply flawed. One of the core fears of an Individualist is feeling inadequate or flawed. The best things about themselves are often "hidden in plain sight." I'm here to remind you that you are not some product that must be recalled because of manufacturer defects. You were woven together in your mother's womb by the Divine Artist. You are "very good"—complete. You are more loved and accepted in Jesus Christ than we ever dreamed. What is needed to combat negative self-esteem isn't a higher view of yourself, but rather an accurate view of yourself hidden in the love of Christ.
Lie #2: Something is missing. The Individualist is on a never-ending search for their missing piece—which may lead to driving around endlessly in a cul-de-sac of introspection. Thus, longing becomes the Four's most intimate, lifelong companion and envy (that someone else surely has the missing piece) becomes the vice or core weakness. The good news is that Christ has not given more of Himself to others than He has to you. The truth is that you don't need more from the world, but that the world needs more of you. Rather than rooting your identity in one long search for completion, search for what's already within you: Christ, the hope of glory. In Christ, you have all you need to be worthy of love.
Lie #3: I will be abandoned. Another core fear for the Individualist is coming off to others as either too inadequate or too much resulting in being emotionally cut off. Like Adam and Eve, Fours feel as if they've been expelled from their "lost paradise." Their deeply felt inner-experience is saturated by feelings of separation and loneliness. The good news is that God's drama centers around a Rescuer from heaven who comes to sweep us back into His waiting arms. You can bring every emotion to Him without fear of getting rejected. Your emotions aren't too much for Him. He loves you for who you are, not for who others want you to be. You are the one Christ lived and died for, and with Him you never have to be someone else.
Lie #4: No one will ever understand me. It's true that you are deeply intriguing, always wrestling with paradoxes and living comfortably in the mysteries that most people avoid. Very few people will ever fully understand you and how you see the world. The truth is God understands us better than we understand ourselves. Our Creator is far more complex than we are; we are not a mystery to Him. Furthermore, Jesus Himself was misunderstood: the lamenting Man of Sorrows and innocent Suffering Servant—who chose pain over prosperity, who made us whole by His wounds, who absorbed darkness and transformed it into light—knows exactly what you are going through.
Lie #5: I am my feelings. Jesus was a kaleidoscope of emotions, able to express the entire spectrum of human warmth and love, anger and frustration, grief and loss. But for you, feelings can quickly transpose your life from a healthy drama into a melodrama when they become a controlling, all-consuming, even enslaving force. When your identity is based upon a shifting thing like feelings, you will soon find your peace and self-worth swept away. But Jesus promises that those who build their house on the Rock—will live securely. As a child of God, you are no longer a slave but a steward of your emotions—to use for His redemptive purposes. Equanimity, the Four's virtue, literally means "an equal mind." When your mind is balanced, you can feel your feelings without becoming them and use them as a gauge rather than a guide.
Lie #6: I am loved for being unique and special. You have been uniquely created to reflect the imago Dei by embodying the originality of God. But when you drift from the gospel's promise of unconditional love, you deteriorate into self-indulgence, working hard to project an image of unmatched uniqueness, drawing others' attention to your own unique style and works. Thus, the Four seeks to avoid being ordinary and getting stuck in the mundane activities of life. You must remember that blue-collar, Nazareth-born Jesus had no form, majesty, or beauty to be desired by the world—and purposely chose ordinary men and women to turn the world upside down. Remember, the good news is that Jesus died on the cross for you—for your flawed and ordinary self, not your special, crafted self.
As you can see, the gospel will challenge your perception of the protagonists and antagonists in your life. In the Individualists's kingdom, those who make you feel extraordinary are rewarded. Your "heroes" become those who indulge your feelings, richly reward your abilities, and give you all the autonomy you want. Likewise, your "villains" become those who challenge you to think positively, call you to take action, ask you to put your feelings aside when the show must go on, or delegate mundane tasks that aren't any fun but still need to get done.
God's kingdom will not be filled with those who are special stand-outs in the eyes of the world, but rather ordinary men and women who called out for a Rescuer. In this place, self-absorption is exchanged for selflessness, envy is dispelled by contentment, and longing leads to belonging. In this place, daydreams become a reality, helplessness is replaced with individual responsibility, and people are able to express themselves fully without making it all about themselves. In this place, "you are no longer foreigners and strangers," but rather right at home in the household of God where nothing is missing.
Are you still skeptical of the Enneagram? Check out my FREE resource called "Should Christians Use The Enneagram?" where I discuss the roots and origins of the Enneagram.
Next Step: Get the 40-Day Devotional
If you've enjoyed what you've read so far, there's good news! I've written an entire 40-day devotional just for the Type Four Individualist.
For the Enneagram Four—the Individualist—life is all about living into the depths, fully embracing the pleasures and pain of life. While our increasingly inauthentic and insensitive world needs your emotional depth and empathy, sometimes the desire to stir up your feelings causes you to get stuck, become melodramatic, or struggle to maintain healthy relationships.
As a Certified Enneagram Coach and pastor, I wrote this 40-day devotional to help you begin fully appreciating your uniquely wonderful qualities and keep you from underestimating your worth—because the world needs your creativity, authenticity, and longing for a world remade.
Inside, you'll discover how to navigate the real world with all your complexity, turn your passion into action, and channel all the beauty and suffering you've experienced into a vision of what it means to be fully human. Be prepared to encounter a compassionate God who perfectly understands you, bears witness to your pain, and grieves with you in the struggle that is life.
Get the "The Gospel for Individualists: A 40-Day Devotional for Passionate, Unique Creatives" on Amazon right now. Click here to receive a free 5-day devotional to test drive the book.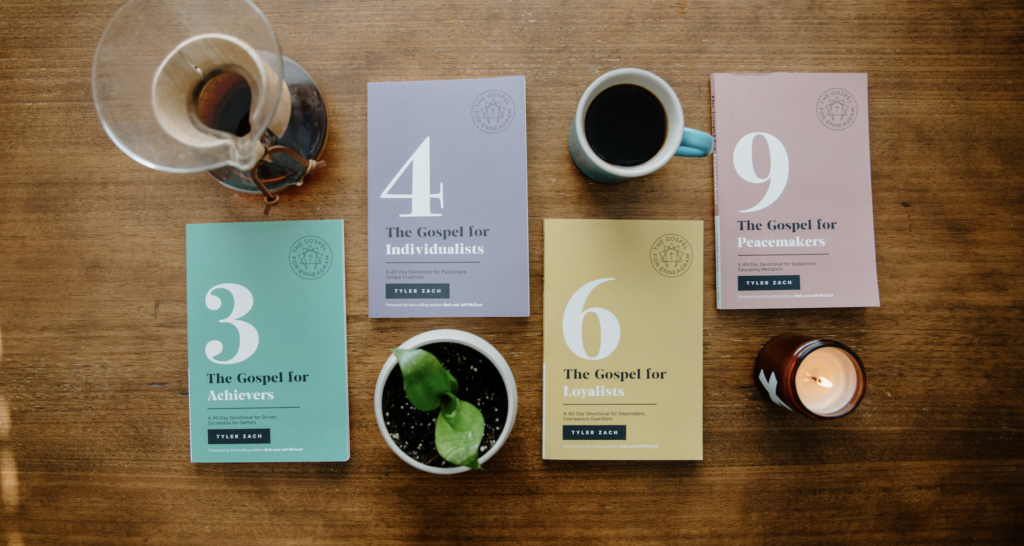 Check out this page to view the other 40-Day devotionals in this series by Tyler Zach. This will make the perfect gift for a family member or friend. You can also subscribe to the email list to get Book Launch announcements and an invite to receive Advance Reader Copies.
Follow Gospel For Enneagram to join the growing tribe of 35K!
Subscribe to watch a NEW video every week!