Hello, Three!
As a Type Three Achiever myself, I am tempted to believe living life is like treading water—if I stop accomplishing, I'll sink. My greatest fear has always been standing before God at the end of my life and hearing him say, "You didn't do enough." But I've come to realize the voice I hear is mine, not his.
His "scorecard" is vastly different from the ones we keep, mostly because there is no scorecard with God. Contrary to the belief that what God wants most for us is to get more stuff done, his primary goal is to be with us and transform us into the image of his Son. The discipleship journey for an "Achiever" personality includes learning what it means to be a human being, not a human doing. It involves learning how to embrace your emotions as natural and even helpful, becoming more honest and authentic, taking off the mask, and finding your identity in God rather than what you do or with whom you are associated.
He wired you to accomplish a lot of quality things quickly, but ultimately created the world to be dependent on him, not you. Your first job—before doing anything—is to be, to rest in his sufficiency for you. Because He is on the throne, you can feel the freedom to slow down and let God reorient your life around his definition of success.
Let's look at how the gospel both affirms and challenges the unique characteristics of your personality type.
The Gospel Affirms Achievers
God sympathizes with the worldview of an Achiever. This chaotic world truly does lack order, is slowed down by unnecessary setbacks, and needs leaders who will organize the chaos, make plans, and get results. Therefore, an Achiever will be happy to know that the Bible affirms the following beliefs:
• God created us to be productive. "And God blessed them. And God said to them, 'Be fruitful and multiply and fill the earth and subdue it, and have dominion over the fish of the sea and over the birds of the heavens and over every living thing that moves on the earth.'" (Gen. 1:28)
• God created us to be faithful stewards. "His master said to him, 'Well done, good and faithful servant. You have been faithful over a little; I will set you over much. Enter into the joy of your master.'"(Matt. 25:23)
• God created us to be efficient. "Look carefully then how you walk, not as unwise but as wise, making the best use of the time, because the days are evil. Therefore do not be foolish, but understand what the will of the Lord is." (Eph. 5:15-17)
• God created us to work hard. "Go to the ant, O sluggard; consider her ways, and be wise. Without having any chief, officer, or ruler, she prepares her bread in summer and gathers her food in harvest." (Prov. 6:6-8)
• God created us to give others hope. "May the God of hope fill you with all joy and peace in believing, so that by the power of the Holy Spirit you may abound in hope." (Rom. 15:13)
The Gospel Challenges Achievers
The gospel also provides specific challenges to Achievers. Now we'll explore the most common lies Achievers believe and watch how the Bible provides much better promises and blessings.
• Lie #1: Image is everything. Achievers want everyone to see their ideal image: someone who is cool, calm, effective, competent, and never idle. Unfortunately, this means we think an awful lot about our image during the day. Thus, while the mental fixation of an achiever is vanity, the truth is that God's glory should be our greatest aim.
• Lie #2: I am loved for what I do. The deepest longing of an Achiever is to be loved for who you are, not what you do. Christ Jesus is the one who can convey that deep sense of being loved—you are fully accepted not on the basis of your failures or successes, but His.
• Lie #3: I must avoid failure at all costs. If appearing successful is the primary goal of the Achiever, then failure will be avoided at all costs. But the truth is that failure is not fatal for the Christian, because the fear of failure has been erased by Jesus's justification, meaning Christ has taken our failures and exchanged them for His successes.
• Lie #4: I'm only as good as my last success. When your self-esteem is deflated by a failure or your public persona begins to lose popularity, you'll be tempted to use a defense mechanism called identification. This means you'll search for whatever image is successful in others' eyes and adopt that as your own. But the truth is that your identity is secure in Christ.
• Lie #5: I must wear a mask to be accepted. This lie will tell you to appear confident and successful at all times; that you must hide the parts of yourself you think aren't as impressive to others. But hiding in shame will keep you perpetually trapped into thinking you are only loved for appearing successful. The truth is that Jesus died on the cross for your flawed self, not your accomplished self. When you believe this, it will transform the vice of deceit into the virtue of truthfulness.
• Lie #6: I must go faster to get ahead. When the good desire for efficiency becomes ultimate, there will be a temptation to "be like God" in His ability and capacity. This will cause you to act like a human doing. You'll create a relational separation between yourself and others, be tempted to take shortcuts on integrity, and prioritize public performance over private devotions. Ultimately, this will lead to burnout and despair. The truth is that you must slow down to love God and others because love always trumps productivity.
As you can see, the gospel will challenge your perception of who the protagonists and antagonists are in your life. In an Achiever's kingdom, those who look the best and are the most productive are rewarded. Your "heroes" become those who boost your self-esteem, make you look good, and support your work habits. Likewise, your "villains" will become those who slow down your progress through laziness, pessimism, heavy emotions, warnings, negative feedback, or interruptions.
However, God's kingdom will not be filled with those who climbed the success ladder faster, but rather with those who cast the crown of their successes at the feet of Jesus. In this place, there is no pretending or performing allowed. In this place substance eats style for breakfast. In this place, things like interruptions, feelings, failures, and other perceived obstacles are really not obstacles, but God's means of grace used to bring about spiritual growth.
Are you still skeptical about the Enneagram? Check out my FREE resource called "Should Christians Use The Enneagram?" where I discuss the roots and origins of the Enneagram.
Next Step: Get the 40-Day Devotional
If you've enjoyed what you've read so far, there's good news! I've written an entire 40-day devotional just for the Type Three Achiever. For the Achiever, life is about success, image, and getting things done. While the world needs go-getters like the Achievers, sometimes their own ambitions can be their downfall. So, how do you achieve the way God intended when He created you?
As a Certified Enneagram Coach and pastor, I've written this devotional to help you figure out how to be a human being, rather than a human doing.
As you dig into each individual devotion, you'll begin to discover ways you might be unintentionally blocking the path to your spiritual, relational, and work goals. You'll find the courage to face some of your biggest fears: embracing your emotions as natural and even helpful, seeing the value of other people and their ideas, and resting in God's plan for your life.
Get the "The Gospel for Achievers: A 40-Day Devotional for Driven, Successful Go-Getters" on Amazon right now. Click here to receive a free 5-day devotional to test drive the book.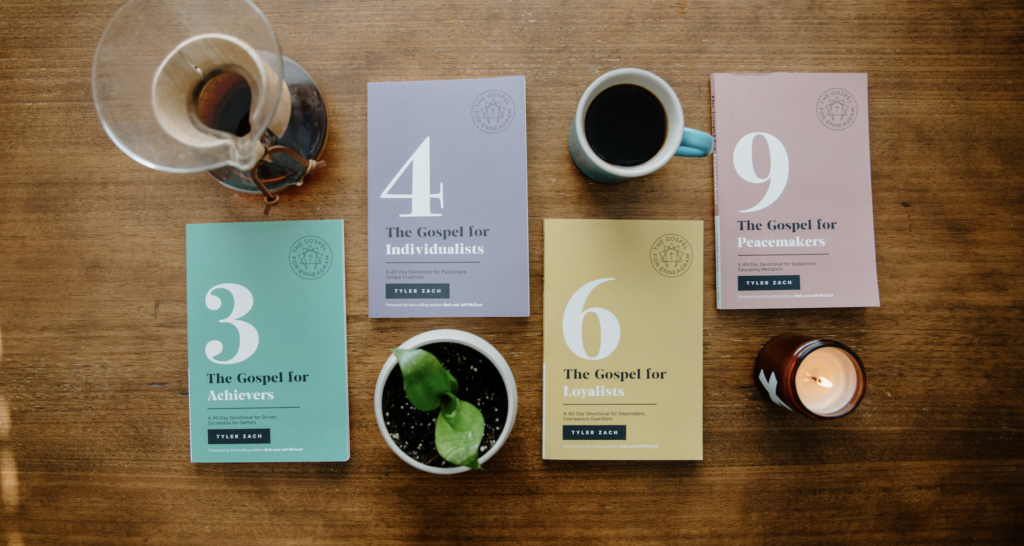 Go here to view the other 40-Day devotionals in this series by Tyler Zach. This will make the perfect gift for a family member or friend. You can also subscribe to the email list to get Book Launch announcements and an invite to receive Advance Reader Copies.
Follow Gospel For Enneagram to join the growing tribe of 35K!
Subscribe to watch a NEW video every week!