Hello, Nine!
Peacemakers are easily the most likable personality: your smile, non-threatening posture, selfless nature, and ability to pour oil on troubled waters make you well-loved. Your presence is enjoyed by all.
Here's the deal: sometimes, it doesn't feel that way. There are times when you feel like your presence doesn't matter and your contributions are questioned. That's why I wrote this article: to convince you that the world needs you. Our increasingly diverse and always divisive world needs your open, healing presence. We need someone to remind us that we are all connected, that we must take our eyes off ourselves and realize we are being grafted into something far greater.
Even though you'd prefer to stay out of the spotlight, God has written an incredible story for your life. You were not created to be a supporting cast member. God has called you to show up and create the life and world you want to wake up to tomorrow. You have so much to bring to God's great narrative, but everyone needs a little push sometimes.
Let's look at how the gospel both affirms and challenges the unique characteristics of your personality type.
The Gospel Affirms Peacemakers
God sympathizes with the worldview of a Peacemaker. This chaotic world lacks harmony and is filled with overblown egos and divisiveness. We need humble, assertive leaders to diffuse conflict by valuing all sides, seeking compromise, and building consensus. Therefore, a Peacemaker will be happy to know that the Bible affirms the following beliefs:
God created us to live with peace of mind in an unstable world. "And the peace of God, which surpasses all understanding, will guard your hearts and your minds in Christ Jesus" (Phil. 4:7).


God created us to coexist in harmony. "For he himself is our peace, who has made us both one and has broken down in his flesh the dividing wall of hostility" (Eph. 2:14).


God created us to be deeply connected. "God arranged the members in the body, each one of them, as he chose. If all were a single member, where would the body be? As it is, there are many parts, yet one body" (1 Cor. 12:18-20).


God created us to be includers. "Live in harmony with one another. Do not be haughty, but associate with the lowly. Never be wise in your own sight" (Rom. 12:16).


God created us to make space for everyone to be heard. "Do nothing from selfish ambition or conceit, but in humility count others more significant than yourselves. Let each of you look not only to his own interests, but also to the interests of others" (Phil. 2:3-4).


God created us to restore broken relationships. "In Christ God was reconciling the world to himself, not counting their trespasses against them, and entrusting to us the message of reconciliation" (2 Cor. 5:19).


God created us to build unity in the midst of diversity. "I appeal to you, brothers, by the name of our Lord Jesus Christ, that all of you agree, and that there be no divisions among you, but that you be united in the same mind and the same judgment" (1 Cor. 1:10).
The Gospel Challenges Peacemakers
The gospel also provides specific challenges to Peacemakers. Now we'll explore the most common lies Peacemakers believe and see how the Bible provides much better promises and blessings.
Lie #1: My presence doesn't matter. One of the core fears of a Peacemaker is feeling invisible or overlooked. When you forget that God's eyes are always on you, it can lead to forgetting yourself and carrying an overly-modest "I'm nobody special" attitude. You must not give into the temptation to belittle yourself—true humility is seeing yourself as God sees you. Rather than discounting yourself and your God-given abilities, you must use them to show up in the world because you were put here for a reason.
Lie #2: I must go along to get along. To gain a sense of acceptance, a Peacemaker will sacrifice their own desires and merge with or live through others. Thus, while the mental fixation of a Peacemaker is all too often others' agendas, glorifying God should be our highest priority. The good news is that merging with Jesus—losing ourselves in Him—actually leads to finding and becoming more of who you were meant to be. When our identity is in Christ, we are freed from people-pleasing in order to live from God's acceptance rather than for others' acceptance.
Lie #3: I must avoid conflict at all costs. Another core fear for Peacemakers is losing connection with others. When "keep calm" becomes your motto, peacemaking will become peacefaking—denying or fleeing from conflict through the defense mechanism of numbing yourself. To escape the pain or minimize the tension, you'll consume food or substances or engage in routines that require little attention but provide maximum comfort. On the cross, Jesus showed us that peacemaking is active. More than the mere absence of conflict, the victory of reconciliation comes through fighting for peace by showing up and enduring discomfort.
Lie #4: It's not okay to assert myself. In an attempt to not come off as pushy and risk relational disruption, Peacemakers will adopt a "play dead to stay alive" strategy. But you were not created to be a "yes man" or "yes woman"; you were made in the image of the "God who declares." As an image-bearer, you must pursue courageous transparency over insecure obscurity by declaring your convictions, speaking up for yourself, disagreeing with others, and saying no more.
Lie #5: I shouldn't rock the boat. Peacemakers are wired to erase lines in the sand rather than draw them. But Jesus came to redraw the lines of His ultimate authority and our allegiance to Him. Peace has no fellowship with darkness. Sharing truth is hard because it always generates resistance—the very thing Peacemakers try and avoid at all costs. But Jesus clothed us with power and gave us all authority to call out sin, confront false religion, and protest injustice. True love has a backbone.
Lie #6: Good things always come to those who wait. While patience is a virtue, it must never become an excuse. The vice of sloth must be turned into the virtue of right action. Rather than waiting for someone else to give us the life we want, we must learn to see when it is time to make a move. We're called to be doers of the Word, become zealous for good works, and work out our free gift of salvation. Love is a verb. We are partners with God, not passive-recipients when it comes to our calling and spiritual growth.
As you can see, the gospel will challenge your perception of the protagonists and antagonists in your life. In a Peacemaker's kingdom, those who are the most non-confrontational are rewarded. Your "heroes" become those who acknowledge you, ask for your opinion, and don't make demands. Likewise, your "villains" become those who call you to action, challenge you with truth, raise concerns, and persistently ask you to do something you should do but don't want to do.
However, God's kingdom will not be filled with those who kept the peace but those who fought for peace. In this place, selfishness is exchanged for stewardship so that we might hear the affirming words, "Well done, good and faithful servant." In this place are those who obey without delay, risk it all rather than play it safe, and work out rather than numb out conflict. In this place, anger is turned into action, daydreams into reality, and wrestling with God into a willingness to prove how deeply we care for the relationship.
Are you still skeptical of the Enneagram? Check out my FREE resource called "Should Christians Use The Enneagram?" where I discuss the roots and origins of the Enneagram.
Next Step: Get the 40-Day Devotional
For the Enneagram Nine—the Peacemaker—life is all about going along to get along. While our increasingly divisive world needs your voice and healing presence, sometimes the desire to keep things calm causes you to avoid conflict, mask your true desires, and sacrifice relational intimacy.
Certified Enneagram Coach and pastor, Tyler Zach, offers this devotional to help nudge you into the spotlight and to show up fully in the world because your presence matters.
As you dig into each individual devotion, you'll find the courage to take more risks, push through distractions, overcome procrastination, be more assertive and decisive, and remove the leadership lid you may be placing on yourself because of fear or self-doubt. Over the next 40 days, you'll begin to discover ways you might be—unintentionally—blocking the path to your dreams so that God can unleash your full potential.
Get the "The Gospel for Peacemakers: A 40-Day Devotional for Supportive, Easygoing Mediators" on Amazon right now. Click here to receive a free 5-day devotional to test drive the book.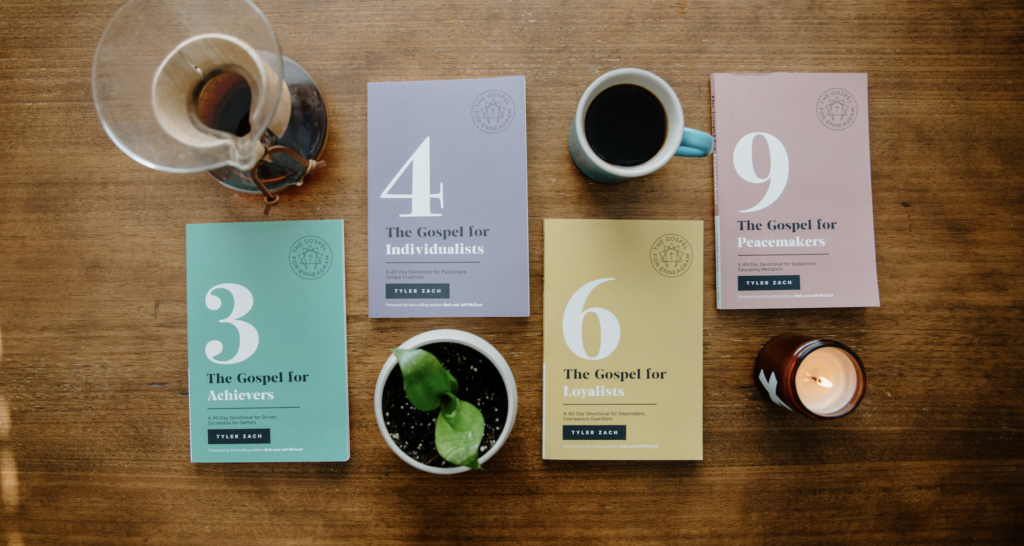 Check out this page to view the other 40-Day devotionals in this series by Tyler Zach. This will make the perfect gift for a family member or friend. You can also subscribe to the email list to get Book Launch announcements and an invite to receive Advance Reader Copies.
Follow Gospel For Enneagram to join the growing tribe of 35K!
Subscribe to watch a NEW video every week!